Thomas DOVASTON STANT [20 February 1871 - 1939]
---
•OCCUPATION: Draughtsman Coventry, Warwickshire
•BIRTH: 20 February 1871, Weirbrook, Ruyton XI Towns, Shropshire ref:496

View Larger Map: Weirbrook Cottage

View at road junction near Weirbrook Cottage
•DEATH: 1939, 39 Newfield Road, Coventry, Warwickshire
---
MARRIED: Abt. 1902, Shropshire
Wife: Mary DONAHUE 03 June 1876 Charlesworth, Glossop, Derbyshire ref:187
Family:
1. Doris STANT 2.Harold STANT 3. Margaret DOVASTON STANT [Coventry, Warwickshire]
---
6.paternal greatgreatgreatgrandmother Margaret DAVIES abt 1700 unknown
6.paternal greatgreatgreatgrandfather Thomas STANT abt 1690 unknown
5.paternal greatgreatgrandmother Elizabeth EVANS abt 1726 unknown
5.paternal greatgreatgrandfather Thomas STANT 17 November 1723 Dudleston, Shropshire
4.paternal greatgrandmother Anne JONES abt 1772 unknown
4.paternal greatgrandfather Joseph STANT [Slater] abt 1770 Dudleston, Shropshire
3.paternal grandmother Jane EVANS abt 1808 unknown
3.paternal grandfather Thomas STANT [Slater] 18 March 1810 Ifton Heath, St Martin, Shropshire
2.father Thomas STANT [Stonemason] 14 December 1838 Ruyton XI Towns, Shropshire ref:128
1.Thomas DOVASTON STANT [Draughtsman]20 February 1871 - 1939
2.mother Sarah DOVASTON 27 June 1843 Wigmarsh, Ruyton XI Towns, Shropshire ref:227
3.maternal grandfather William DOVASTON [Tailor] 02 May 1793 Wigmarsh, Ruyton XI Towns, Shropshire
3.maternal grandmother Jane DAVIES abt 1804 West Felton, Shropshire
4.maternal greatgrandfather John DOVASTON [Tailor]Abt. 1755 Twyford, Shropshire
4.maternal greatgrandmother Jane Abt. 1751 unknown
5.maternal ggreatgrandfather Edward DOVASTON November 28, 1719 Shropshire
5.maternal ggreatgrandmother Margaret Abt. 1723 unknown
6.maternal gggreatgrandfather John DOVASTON [Yeoman]Abt. 1687 Twyford, Shropshire
6.maternal gggreatgrandmother Miriam BROWNE Abt. 1685 Sweeney, Shropshire
7.maternal ggggreatgrandfather John DOVASTON November 17, 1650 Dovaston, Kinnerley, Shropshire
7.maternal ggggreatgrandmother Mary WILLIAMS March 16, 1649 Twyford, Shropshire
8.maternal gggggreatgrandfather Daniel DOVASTON [Farmer]Abt. 1624 Dovaston, Kinnerley, Shropshire
8.maternal gggggreatgrandmother Joan MILLINGTON Abt. 1628 Shrewsbury, Shropshire
---
Greetings from Ruth DOVASTON STANT England,UK
I am researching in 15th-19thC Kinnerley, Twyford, West Felton, Weirbrook, Wigmarsh, Eardiston, Ruyton XI Towns, Shropshire UK DOVASTON and connections with MILLINGTON, WILLIAMS, BROWN[E], DAVIES, STANT, EVANS, JONES, DAVIES families at Shrewsbury, Twyford, Sweeney, Ellesmere, St Martin, West Felton, Ruyton XI Towns, Shropshire UK

View Larger Map of Eardiston
View Larger Map: of Ruyton St Johns Church, showing Castle remains, site of Thomas STANT and Sarah DOVASTON 'Church Cottages'
William DOVASTON [b.1793] and Jane [nee DAVIES] lived at Wigmarsh, Ruyton XI Towns. Their children were Mary, Rachel, Hannah, Alfred, Anne, Naome, *Sarah and Margaret Elizabeth, all born between 1828 and 1846. William's occupation was a Tailor.
In the 1881 Census, Jane [nee DAVIES] was a widow, annuitant, living with Thomas STANT and *Sarah [nee DOVASTON] and family at Yew Tree Cottage, Wigmarsh.
my ggrandfather Thomas DOVASTON STANT [1871-1939]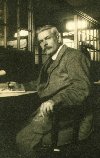 1881-1901: Thomas and Sarah, Thomas Dovaston Stant's parents, lived with their family at Yew Cottage, Wigmarsh, Shropshire:

View Larger Map: Yew Cottage, Wigmarsh, Shropshire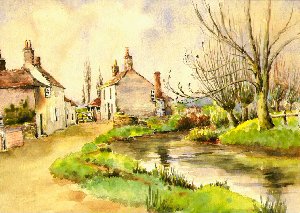 Ryhall Village nr Rutland Waters [1924]
painted by Thomas DOVASTON STANT - one of hundreds of scenes he sketched and watercoloured from Warwickshire, Leicestershire, Shropshire, Wiltshire, Devonshire and Cornwall 1920's-1930's. Unfortunately the collection was broken up and pictures are now scattered from the UK to Australia.

View Larger Map: Ryhall Village
See more detailed info on all the above, from Ruth DOVASTON STANT at: 'My Family Tree'
---
E-mail:

mailto:dovastonfamilytree@yahoo.co.uk

Ruth DOVASTON STANT [The DOVASTON Family Surname and History]
is the coordinator of The DOVASTON Surname
©.Ruth DOVASTON-STANT] - Copyright 1998. All rights reserved. Genealogists may use the information provided here freely. This page, and the information it provides may not be copied for commercial use of any kind.
http://www.gone-butnotforgotten.org.uk/dovaston/index.htm
[constantly under construction - last updated January 2017 ]
---